15 November 2016
Viticulture: automated counting of vines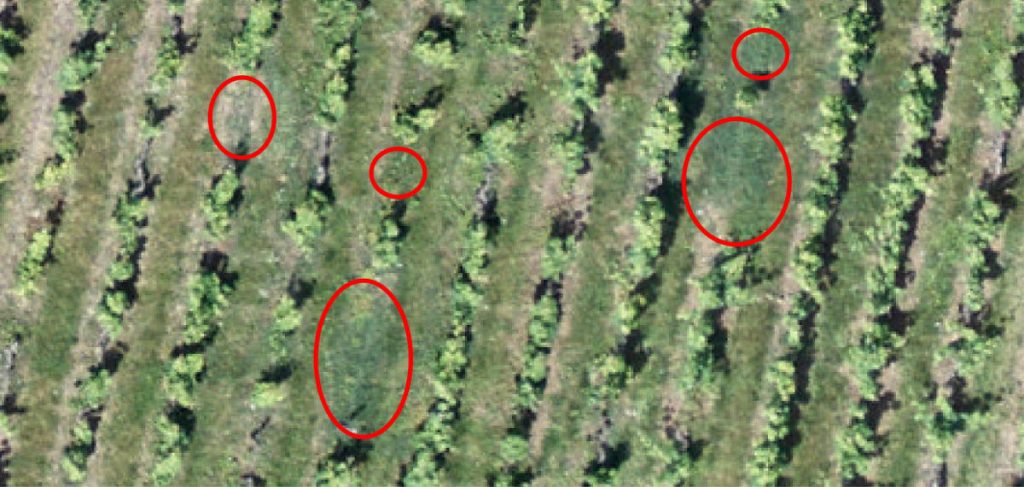 Still in the series of what it is possible to do on a commune of 33km2 (click here for more info), we will discuss in this article the precision agriculture or rather precision viticulture thanks to the use of drone. All subjects related to vineyards and precision viticulture will not be addressed through this article. The article focuses on the counting of vines feet.
After flying over a vineyard plot, here is what we get from the photogrammetric process: an orthophoto and a numerical surface model representing the elevation of the terrain.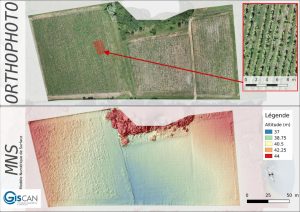 Visualization of the orthophoto (zoom on the orthophoto) and the digital surface model
After visual inspection of the orthophotography, it is obvious that some vines are missing on the plot. The image below illustrates by red circles the areas where the vineyards are missing.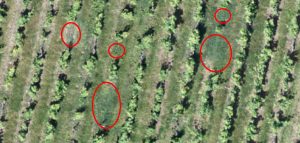 The red circles represent areas of the parcel where the vineyards are missing
GISCAN has developed a unique and automated technique for detecting these missing multi-parameter individuals and an algorithm based on sig (geographic information system) functionality. The image below illustrates what you can get: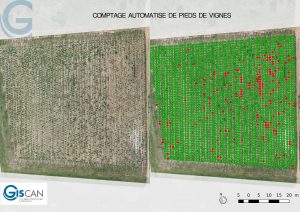 To the left of the image the plot visible in the globality. On the right, the vines' feet are detected: when they are present the green color is visible, when the red color is present, vine stocks are missing.
Conclusion :
So we can ask ourselves what it can do for us. Here is what we can conclude with this method:
Calculation of the profitability of the plot: count of the available feet on the plot. The vine growers generally know the profitability of each vine.
Identification of deaths and time tracking of the plot.
Evaluation for the aid and the restucturation of the plot: plucking and replanting the plot: the feet of old vines are often torn off to plant new ones. This manipulation is partially subsidized in France.